Discover more from Just the Facts with Gerald Posner
Award-winning investigative journalism without any spin
Over 4,000 subscribers
Thursday March 14, 2019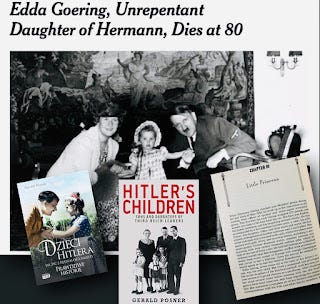 From the NY Times March 13, 2019 obituary of Edda Goering.
"My only memories of him are such loving ones," she told Mr. Posner in a rare interview, "I cannot see him any other way."
Edda Goering had a deserved reputation for not giving press interviews, much less ones that tried to get her to talk about her feelings about her infamous father. It took months of back and forth letters before she agreed to finally talk to me in 1990. I traveled to Munich and we met in her small apartment. After several hours, the interview ended because she asked for money and I refused. Still, what she provided that day is some of her most intimate views she ever gave publicly about her father. The results of that interview with Edda Goring are in Chapter 10, the "Little Princess," of my 1991 book, Hitler's Children: Sons and Daughters of Leaders of the Third Reich Talk About Themselves and Their Fathers (Random House). It was released last year finally as a Kindle and ebook and has just been published in Poland for the first time.