Discover more from Just the Facts with Gerald Posner
Award-winning investigative journalism without any spin
Over 4,000 subscribers
"The Hunt for Mengele's Suitcase"
What has proven the single most vexing matter I have ever investigated?  

Read my article - "THE HUNT FOR MENGELE'S SUITCASE" - in the summer issue of Stay Thirsty Magazine 
"For thirty-two years I have unsuccessfully tried to solve the riddle of what happened to a briefcase stuffed with medical notes and lab specimens belonging to Auschwitz's Angel of Death, Dr. Josef Mengele. There is no better illustration that no matter how great a journalist's resolve and commitment, some issues stubbornly refuse to be wrapped up with a tidy final chapter."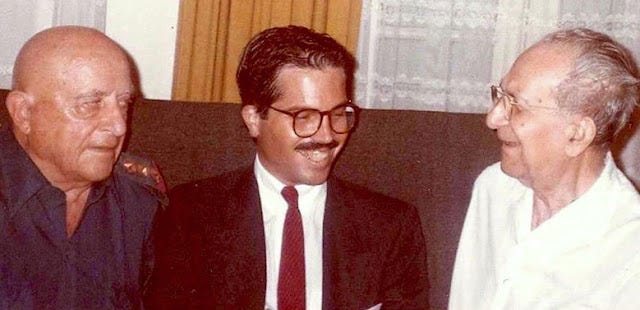 Gerald Posner, in 1984 in Asuncion Paraguay, sitting between Colonel Alejandro von Eckstein (on the left), one of Josef Mengele's co-sponsors for citizenship in Paraguay, and Dr. Otto Biss, a German physician who claimed to have treated Nazi fugitive Martin Bormann in Asuncion.