Discover more from Just the Facts with Gerald Posner
Award-winning investigative journalism without any spin
Over 4,000 subscribers
JUST UNSEALED: 2006 Dept of Justice memo that recommended CRIMINAL charges against PURDUE PHARMA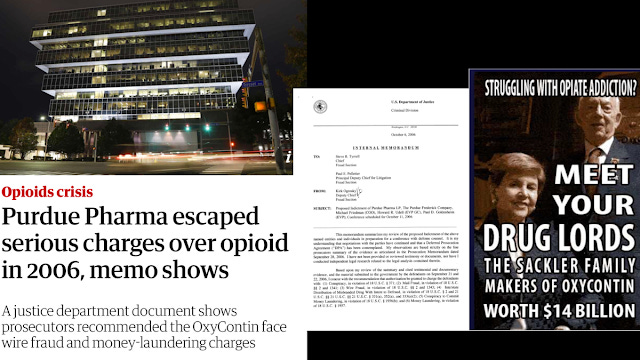 In PHARMA, I wrote:
"Under Justice Department regulations, (U.S. Attorney) Brownlee's superiors in Washington had to sign off on his case. He forwarded it to headquarters in 2006. The Criminal Division career prosecutors who reviewed it recommended the most serious charges. One reason for their confidence was a confidential Department of Justice memorandum prepared by Brownlee's team that determined that senior Purdue executives were aware of OxyContin's abuse problems within months of its 1996 on-sale date, not five years later as they claimed."
The six-page October 6, 2006 Department of Justice memorandum that recommended that top Purdue executives be charged with an array of felony charges - conspiracy, money laundering and wire and mail fraud -  is at last public. Two U.S. Senators have requested since 2019 that the DOJ make the document public.
Also in PHARMA, I reported that the DOJ ultimately decided to ignore the recommendations for criminal prosecution. 
"In early summer, Brownlee got bad news from headquarters. Top DOJ officials, including Alice Fisher, then the Criminal Division's chief, decided against filing the expanded charge and instead authorized Brownlee to bring only the less serious misbranding case. That was a clean and straightforward prosecution. 'They decided at HQ to go for the low-hanging fruit,' a case investigator confided to the author. Brownlee later told Joseph Rannazzisi, a DEA official, that the DOJ decision had put him into an untenable position. By eliminating the most serious charges, it forced him to settle the case without going to trial. Otherwise, he told Rannazzisi, Purdue's large, well-funded legal team might well overwhelm his small group of prosecutors. 'He told me he was outgunned,' Rannazzisi told The New York Times. 
The Guardian has a good story about it today: https://www.theguardian.com/us-news/2020/aug/19/purdue-pharma-oxycontin-justice-department-memo-opioid
Here is the document: