Discover more from Just the Facts with Gerald Posner
Award-winning investigative journalism without any spin
Over 4,000 subscribers
Is the Department of Justice about to give Purdue Pharma and the Sackler family a 'Get Out of Jail Free' Pass?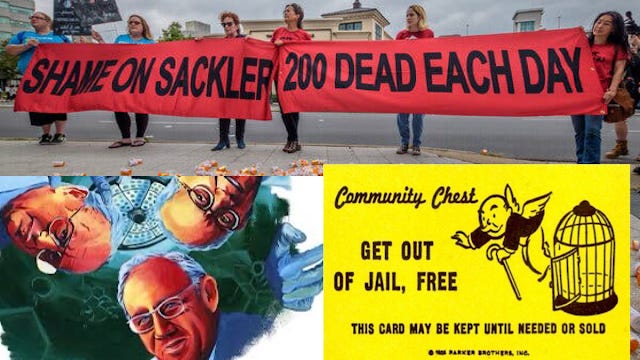 The Wall Street Journal reported yesterday that the "The Justice Department is urging a bankruptcy judge to limit a creditor probe of OxyContin maker Purdue Pharma LP into the billions of dollars in profits collected by the Sackler family members who own the company."
The paper also reported that "Government investigations into Purdue are close to being resolved under a settlement that could be announced as soon as Wednesday."
Last week twenty-five state Attorneys General wrote to Attorney General William Barr setting forth reasons why they opposed any settlement. The state AG's were staunchly against a Justice Department proposal that would convert Purdue Pharma in a "public benefit company" that continued to sell OxyContin. (read the state AG letter).
Thirty-eight members of Congress also wrote to Attorney General Barr, expressing "our deep concern regarding recent alarming reports suggesting that Purdue Pharma, the maker of OxyContin, and members of the Sackler family are nearing a plea agreement with the Department of Justice (DOJ), which would foreclose any federal criminal liability without a single person serving a single day in prison." (Read the congressional letter).
The FedUp Coalition - representing many individuals and groups devastated by the opioid crisis - wrote as well to AG Barr, arguing that "Purdue should be shut down" and that as for the Sacklers, "no one should keep the money they got by breaking the law." (Read the FedUp! letter).
Is the Department of Justice about to sell out opioid victims for the second time in 13 years?
This August I obtained and published a six-page, October 6, 2006 Department of Justice memorandum, in which the Deputy Chief of the Fraud Section had recommended multiple criminal indictments against Purdue Pharma and three of its top executives. The charges included conspiracy, wire fraud, intent to defraud with a misbranded drug, and money laundering. That recommendation was subsequently scuttled when Purdue's attorneys, Rudy Giuliani and former U.S. Attorney Mary Jo White, successfully lobbied senior Bush administration and DOJ officials. An investigator on that original investigation confided to me, "They decided at HQ to go for the low-hanging fruit." The result was that in May 2007, Purdue and three of its executives, pleaded guilty only to civil felonies and walked free from a Virginia courthouse after paying multimillion dollar fines.
Now the Department of Justice is at another inflection point. 
Will any pending settlement involve guilty pleas to criminal charges that are resolved by fines only and without any jail time? As in 2006, a decision by the DOJ to remove any threat of jail for Purdue and its executives would be a capitulation to wrap up a politically expedient settlement before the election.
Many important issues undoubtedly get clouded by political considerations in a presidential election year. However, the many opioid victims and their families to whom I have spoken, would consider it an unforgiveable betrayal. It is a major miscalculation for the administration to believe that those Americans who have personally paid the price for the opioid epidemic want to see the architects of the crisis get a "get out of jail free" card.